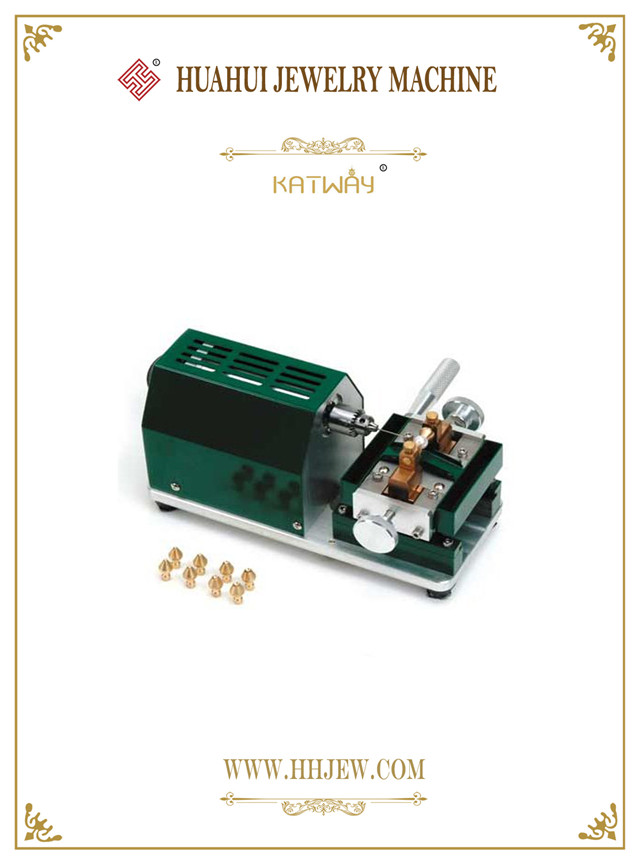 #HH-PT01
Pearl Drilling Machine

Description


Can hold big pearls up to Dia 35mm.
Handy and efficient.
New improved pearl chucks make replacement easier.
Complete with: 5 pearl chucks.
Voltage: 220V/50
Motor: 6000rpm

Characteristics of Pearl Holing Machine:


1.Can be used for accurate holing on such precious stone as pearl,coral,amber and ornaments components such sa gold,silver and copper.


2.This machine is equipped with 9 suits of special collets,which is suitable to the pearl is in round shape,shape and other shapes or special shapes.


3.Collet of this machine is made from nylon,which prevent pearl from being mingled with flower and scar.


4.Can make a hole on pearls of various specifications from 3-25mm (including fresh water pearl,seawater pearl,South Sea pearl,Daxidi black pearl,shell,coral and amber).


5.Fitted with 0.5-1.2mm special tungsten-steel drilling needle for holing pearl.


6.Holing depth can be regulated.


7.Equipped with pedal switch-controlled motor,easy and highly efficient.


8.Fitted with power-assisted handle device,saving effort and convenient in use.


9.Equipped with 1 grinding needle head,which can grind holing needle at any time.


10.There is a dust-falling hole at the bootom of clamping fixture table,which can enable this holing machine to hole in batch (beacause a great number or pearl powder will be produced when pearls are holed in batch,working piece inside clamping fixture table is easily blocked)without cleaning out pearl powder chips regularly,tus ensuring a long-term normal use of the holing machine.


11.Control collet and rotation of pearl by using rotary handle,easy and highly efficient.


12.Small volume,light in weight,beautiful outer appearance,suitable to be used at any place.


13.YDK motor of Japan is small in noise and durable.


14.This machine is equipped with a receptacle trough having large capacity.